Gateway to the Bay of Bengal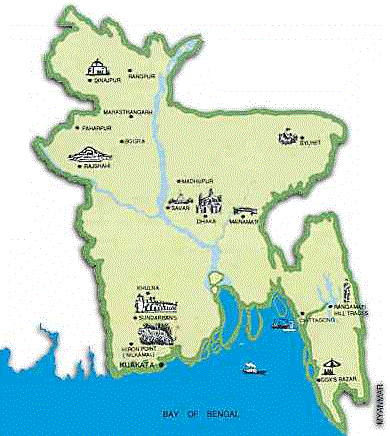 With a picturesque hinterland of large hill-forests and lakes, Chittagong is a Good vacation spot. It is the second largest city of Bangladesh and the biggest international seaport. Its green hills and forests, broad sandy beaches and fine cool climate always attract holidaymakers. It combines the hum of a restless seaport with the pleasure of a charming hill-town with its undulation topography. Chittagong is the main site for the establishment of heavy, medium and light industries. Bangladesh's only oil refinery is also located here. Chittagong is connected with Dhaka by rail, road, air and water. It is also connected with Cox's Bazar, Calcutta and Dubai by air. Bangladesh Biman and private GMG Airlines operate daily services from Dhaka to Chittagong.
Situated on a hillock at Nasirabad, about 6 km. To the north – west of Chittagong town, this shrine attracts a large number of visitor and pilgrims. At its base is a large tank with several hundred tortoises. Tradition has it that these animals are the descendants of the evil spirits (genii) who were cast into this shape because they incurred the wrath of the great saint who visited the place about 1100 years ago.
In this well-preserved cemetery at a quiet and picturesque place within the city lie buried in eternal peace over 700 soldiers from Britain, Australia, Canada, New Zealand, India, Myanmar, East and West Africa, The Netherlands and Japan who laid down their lives on the Myanmar front during the World War II.
The Shrine of Shah Amanat is another place of religious attraction, located in the heart of the town, the shrine is visited by hundreds of people everyday who pay homage to the memory of the saint.
The Ethnological Museum at Chittagong stands as a milestone in our national progress. It is a place where ample facilities have been provided to carry out ethnological research. This museum is recognized as one of the best-specialized museums in South-East Asia. It houses objects of 12 different tribes of Bangladesh and also of many tribes of Australia, India and Pakistan.
The government Circuit House where former president Ziaur Rahman was assassinated has been turned into a museum.
Set amidst picturesque surroundings in the railway township of Pahartali 8 km. From Chittagong this is an ideal spot of outing and picnic thronged by thousands of visitors every week).
The only training institute of its kind in Bangladesh, situated on the mouth of the river Karnaphuli.
Situated on the fairy Hill, this building commands a magnificent bird's eye vies of Chittagong. This had been the scene of intense activity during the independence War in 1971. A museum has been established here.
Patenga beach is about 22 km. From Chittagong and is approachable by a motor able road. On the way to the beach one passes the Patenga Airport. Another ideal picnic spot is the Fouzdarhat Sea–Beach about 16 km. From Chittagong.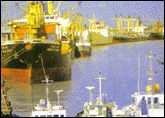 Located near the river mouth of the river kaarnaphuli, the Chittagong port has a recorded history from 9th century .Today , this is the principal seaport of the country.
About 37 km. From Chittagong. This is famous for the Chandranath Hindu temple-one of the oldest temple in the subcontinent and the Buddhist
Temple having a footprint of Lord Buddha. These places particularly the hilltops are regarded as very sacred by the Hindus and Buddhists. Shiva Chaturdashi festival is held every year in February when thousands of pilgrims assemble for the celebrations which lasts about ten days. There is a Salt Water spring 5 km. to the north of Sitakunda, Known as Labanakhya.
Climate: Pleasant and cool in winter and warm and humid in summer.
Language: Bangla, English is spoken and understood.
Wearing Apparel: Tropical in summer and light woolen in winter.
Communication & Transport
Chittagong is connected by road and rail with rest of the country . Air link is available with Dhaka and Calcutta.
Car Rental
Rent – a – Car facilities are available for city sightseeing and trips to Rangamati, Cox's Bazar, Sitakunda and other touristically important places.